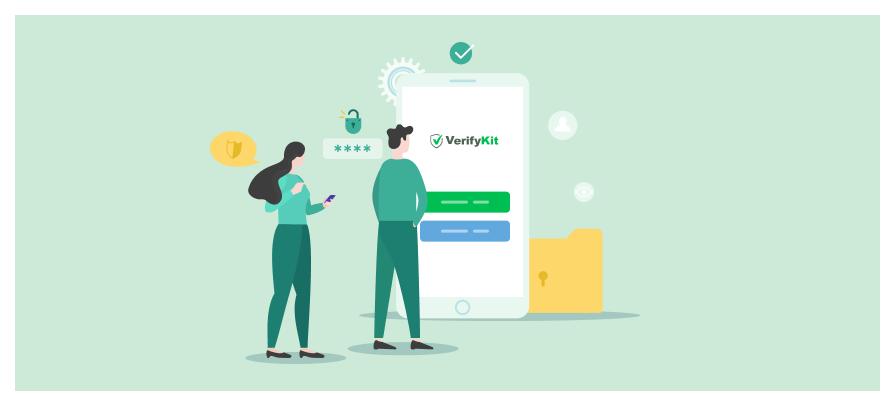 The story of VerifyKit
Every brand has an origin story.
Ours is one of dedication and hard work, how we developed VerifyKit and nurtured it to the global brand that it is today. In a nutshell, it's the story of challenging ourselves at every corner, finding our own solutions to the problems we face, and sharing those solutions with the world.
We understand the needs of today's developers, and we strive to meet their every need with our products. We think making life easier for developers is of paramount importance, and that mindset enabled us to make VerifyKit very easy to implement and use.
Without further ado, let's move on to how we built VerifyKit from the ground up.
VerifyKit is a B2B service developed by Teknasyon, one of Turkey's leading technology companies. Teknasyon have found worldwide success within the B2C space, and went on to take their in-house tools and infrastructure that they developed and used in line with the needs of their own mobile apps and services, and turned them into B2B services. As a result, Teknasyon utilized its experience in the global mobile app market and launched VerifyKit as a B2B product that offers a full spectrum of solutions needed by mobile developers for mobile phone number verification.
We first started developing VerifyKit within Teknasyon as a part of a mobile app that operated globally. What we needed was a solution that lowered the cost of SMS verification that allowed us to verify users' mobile phone numbers. We successfully implemented this within our app using WhatsApp.
Later on, we decided to use it with our other mobile apps within Teknasyon. Realizing the value it brought to the app we used it with initially, we improved it with SaaS in mind and started turning it into a separate product.
At that point, we went to great lengths to ensure scalability and ease of integration and use. We developed the first iteration of our VerifyKit SDK and made sure that developers could integrate it into their apps seamlessly on iOS and Android platforms.
From then on, to meet the needs of developers in every space, we developed the REST API and the Web SDK that could be utilized within web apps. One of the key strengths that our SDK was the exhaustive documentation we had for it, as it made integration very easy and straightforward.

– Senior Backend Developer of VerifyKit, Gökhan Tunçkale
We needed a way to verify our users' phone numbers in our apps. This was important to us because it both ensures that we're reaching the right user and a better user experience. The most traditional way to verify mobile phone numbers is to send an OTP via SMS and let the user enter the code.
However, SMS is a costly method and can become a major cost when scaled up. It is also very expensive in certain countries. As our apps' popularity increased in global markets, the cost of SMS became close to prohibitive. Not only that, SMS isn't very reliable and OTPs often didn't reach the user in some countries. This could lead to churn during acquisition/login, which is one of the most important points in the user journey. Lastly, users had to switch back and forth between their SMS app and our app to enter the OTP, and this caused OTPs to be entered incorrectly, negatively affecting the user experience.
We knew we weren't the only app developer facing these issues. We began looking for a solution that's both cost-effective and made an addition to the user experience, increasing the success rate. We started our research into IM apps and number verification methods that most users use daily and developed our solution using WhatsApp. However, it quickly became apparent to us that some users still preferred SMS. So in addition to IM apps, we decided to offer SMS verification as well to offer a wider variety of verification methods.

– Product Manager of VerifyKit, Hatice Kasapbaşı
When building VerifyKit, we decided to shift our focus to affordability and high success rate and emphasized IM platforms such as WhatsApp. But at the same time, we needed to support the SMS verification method as it was still widely used.
However, the problems of SMS being a costly channel and delivery issues were still there. The price and delivery success of SMS providers varied wildly in every country. That's why we have developed a service to provide VerifyKit customers that helps them send SMS at the lowest price while maintaining the highest delivery success rate. We brought a large number of SMS providers together and integrated them into a single system in which we find the cheapest price for SMS in each country and operator in those countries and send SMS through them. In case the SMS is not sent within the specified timeframe, we pass it on to the next SMS provider and send it from there. This way, we can keep the costs low and maintain the highest delivery success rate.

– CTO of VerifyKit, Fatih Üstündağ
This is the story of VerifyKit and how we built our company from the ground up, overcoming every single challenge we faced. As we continue growing, we understand the value of tackling challenges head-on, and we will continue doing that in the future.