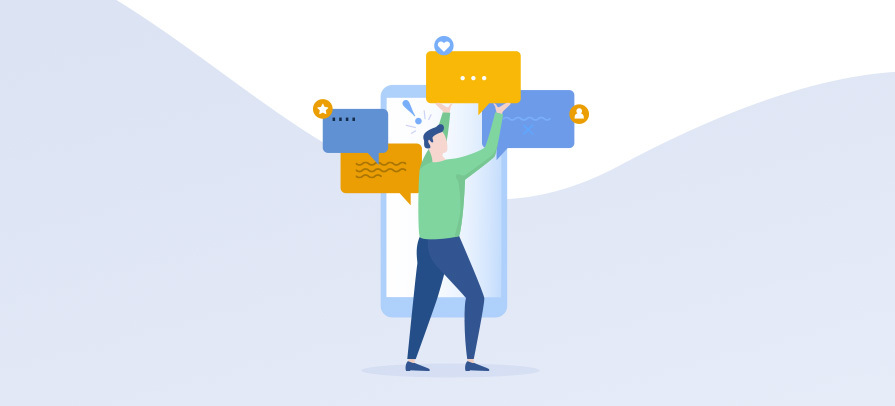 How to boost app engagement with push notifications
Keeping a steady user retention and app engagement rate is essential to your app's success. It's extremely easy to think that user acquisition is the ultimate means to drive the success of your app, but what good is user acquisition if nobody is staying around to actually use your app? Increasing app engagement with push notifications can help you keep your users around and can make or break app in this regard.
But first things first – what is app engagement?
App engagement is a set of metrics that track the number of users that actually interact with your app. This could be measured in MAU (Monthly Active Users) and DAU (Daily Active Users), essentially giving you a view into how many users open your app every month or every day to use it. Additionally, you can track how much time a user is spending in your app.
Retention refers to the percentage of users still opening your app after the initial install. For example, you ran a user acquisition campaign and saw an influx of new users to your app. But how many of them are opening your app after 3 days? Or after 30 days? If you can't keep those users on your app, focusing only on user acquisition won't get you far.
The Double-edged Sword
Push notifications are incredibly effective in re-engaging lapsed users and keeping them in the loop. On the other hand, if done improperly, they can become an annoyance and may result in users uninstalling your app for good.
Think of this as a balance. When you go to a physical store and nobody is there to help you with your purchasing decision, you'd be disappointed and never visit that store again. The opposite of this would be the overeager staff not leaving you alone, recommending you product after product even if you say you don't need any more help. That's an annoying shopping experience. The same balance applies to apps too: if you show too many or too few notifications, you might start bleeding users. Increasing app engagement with push notifications is all about this balance.
Different contexts for different needs
Depending on your app vertical, the proper notification contexts and intervals will differ. Banking and finance apps have different audiences than those of gaming apps, and you need to determine the context and frequency of your notifications accordingly. Naturally, the contents of the notifications differ by vertical as well. We've put together a list of best notification practices when it comes to different needs in different verticals down below.
Gaming apps
Making sure that your gaming app users receive appropriate notifications can drive the retention curve up 15-20%.
Let your users know how they rank up against friends: Encouraging your users to one-up their friends is a great way to boost engagement. Stoking the fire of a little friendly competition will push them to open your game and play a few rounds to beat their high score. Bragging rights are important, after all.
Progress-based personalized notifications: Players do a lot in gaming apps, and every interaction is an opportunity to reach out to the player. For instance, if a user is close to an achievement, let them know. If it's an idle game, tell them that the timer is up and they can invest in more "BurgerBucks".
Reward your users: Give them special offers and discounts to keep them hooked. Seasonal or holiday discounts make a great engagement opportunity.
Banking and Finance
The main goal of push notifications in banking and finance apps is to keep the users up to date.
Notify your users about their account status: Send them a notification about certain transactions, when they receive funds or an automatic payment has been successful. This makes it easier for your users to keep track of their finances.
Branch availability: During the pandemic, lockdown measures kept changing, and so were the branch hours. It's a good idea to notify your users of these changes in case they are planning a trip to a local branch. It's also a subtle reminder that your app will keep them up to date about anything related to their account.
Special offers and product updates: Are you offering a new kind of credit card with a better APR? Let them know and apply for it. Is there an early adopter benefit? All the better.
Shopping / Retail
With the mobile overtaking the desktop in online shopping this year, it's evident that there are more opportunities on mobile than ever.
Abandoned carts: We all do this when idly browsing shopping websites. We add things to the shopping cart and never check out. Reminding users of the items they once wanted to buy is a good opportunity to get them back into your app.
Discounts and special offers: Maybe you'd like to offer those who have abandoned their carts a discount so that they'll go through the checkout process. It's a great incentive for reluctant users. You can even personalize this offer by making the user's name into an offer code, "PHIL2021" for example.
Delivery updates: Enhance the user experience by sending them updates about their order. For instance, you can update them when the item is shipped and the location of the item wih the estimated delivery date.
Timely notifications ensure a good relationship with your userbase and keep a healthy retention rate. This includes customer support as well. When providing support over WhatsApp, you can make use of VerifyKit's session messages when using a WhatsApp Business Account. Users appreciate good service, and you owe it to them. You can learn more about VerifyKit's session messages here.